NEW AND IMPROVED Farmhouse Table Details
Thanks for stopping by our blog. We hope this blog post is a great resource for you. Feel free to browse around for other ideas/inspiration. If you like what you see, we'd love to hear from our readers….drop us a comment at the end. Also, we're fairly new to the whole blogging world and would love for you to join us in this adventure by following…our time is limited but we try to update it often. Thanks, Tommy and Ellie.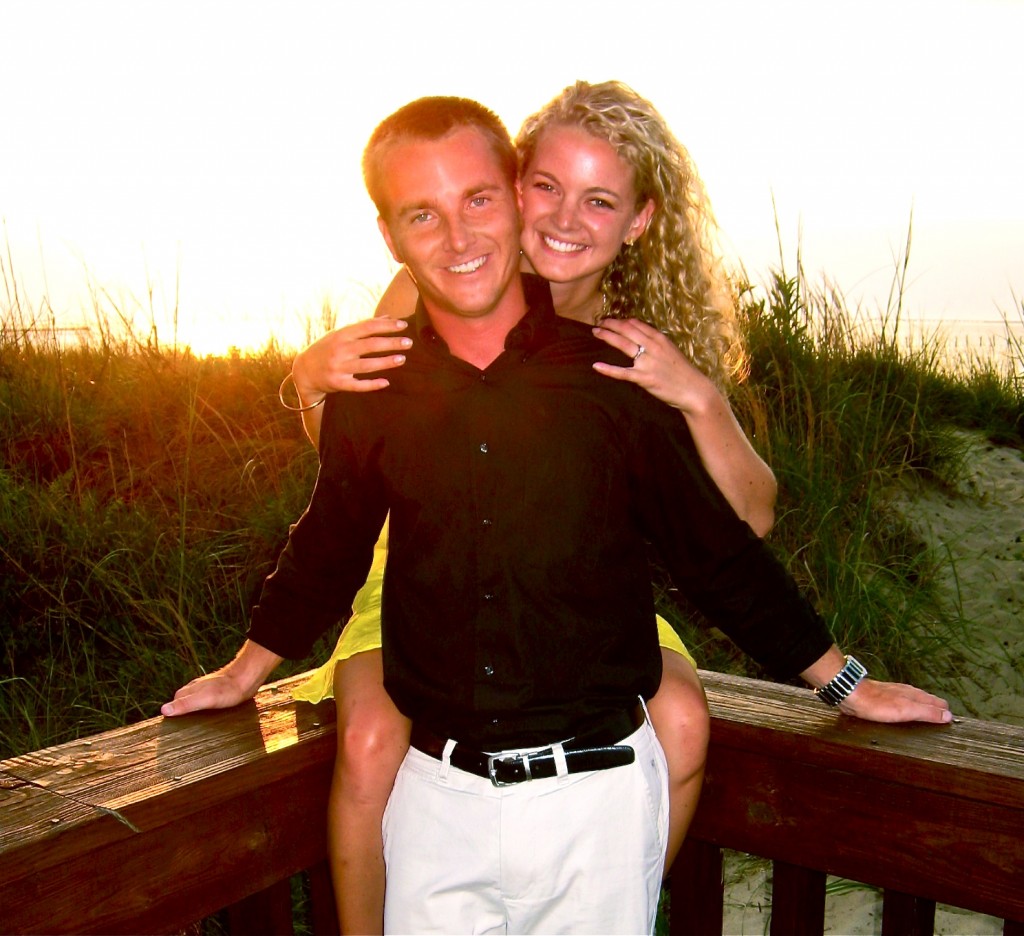 It wasn't too long ago when I took on my first big building project….the infamous Farmhouse Table. I had little clue of what I was doing but I moved forward anyways.
Since then, I've built similar tables for friends, family, and strangers. Each time that I've built the table, I've learned one or more tricks on either simplifying the process or making a better quality product. I look back at the original post and almost cringe with embarrassment about certain aspects of how I used to build the table…..that's why I decided to document my latest table with more pictures, more details, more measurements, and hopefully more resources to better equip others to make a similar table.
I have to start by giving all the credit to the Ana-White website and Restoration Hardware.
These instructions are to create a table with the dimensions 96″x41″. I put together a cut list and shopping list pdf for both a 96″x45″ table, matching bench, and extensions AND a 72″x41″ table, matching bench, and extensions ~~~~>
Tommy's Farmhouse Table Cut List for a 96″x45″ table, matching bench, and extensions….as well as a 72″x41″ table, matching bench, and extensions.
I purchased all the wood from a local mill. I bought all #2 kiln-dried pine. Here's what I purchased to build the table, the bench, and the extensions;
2: 2×12
2: 2×10
5: 2×8
10: 2×4
3: 4×4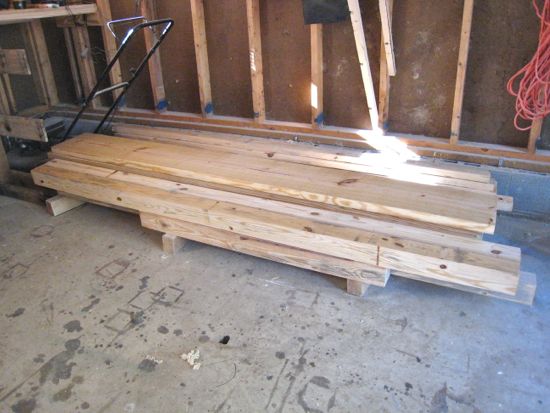 In this post I will document the construction and finishing of just the table. I will create two additional posts documenting the construction and finishing of the bench and the extensions. The details on the extensions can be found
here
. Once posted, I'll update this post with links.
For this specific table, the overall dimensions measure 41″x95.5″x30″. Here's the cut list for this specific table (96″x41″);
Tabletop
Planks: 2: 2×10″s @ 81″
Planks: 2: 2×12″s @ 81″
Breadboards: 2: 2×8″s @ 41″
Base
Legs: 4: 4×4″s @ 28.5″
4×4 Stretcher: 2: 4×4″s @ 38.25″
2×4 Bottom Stretcher: 1: 2×4″ @ 88.25″
Side Aprons: 2: 2×4″s @ 81″
End Aprons: 2: 2×4″s @ 31″
Inside End Aprons: 2: 2×4″s @ 34″
Supports: 3: 2×4″s @ 34″
Here's some of the tools/supplies that I use;
2.5″ Kreg screws
Wood glue
Lots of 100 grit sandpaper
Router with 1/2″ round bit
Table Saw
Circular Saw
Lots of clamps
Minwax Special Walnut
Minwax Clear Gloss Poly
Briwax Light Brown (you'll probably need two cans)
Here's some basic building plans that I whipped together using Keynote to help serve as a visual;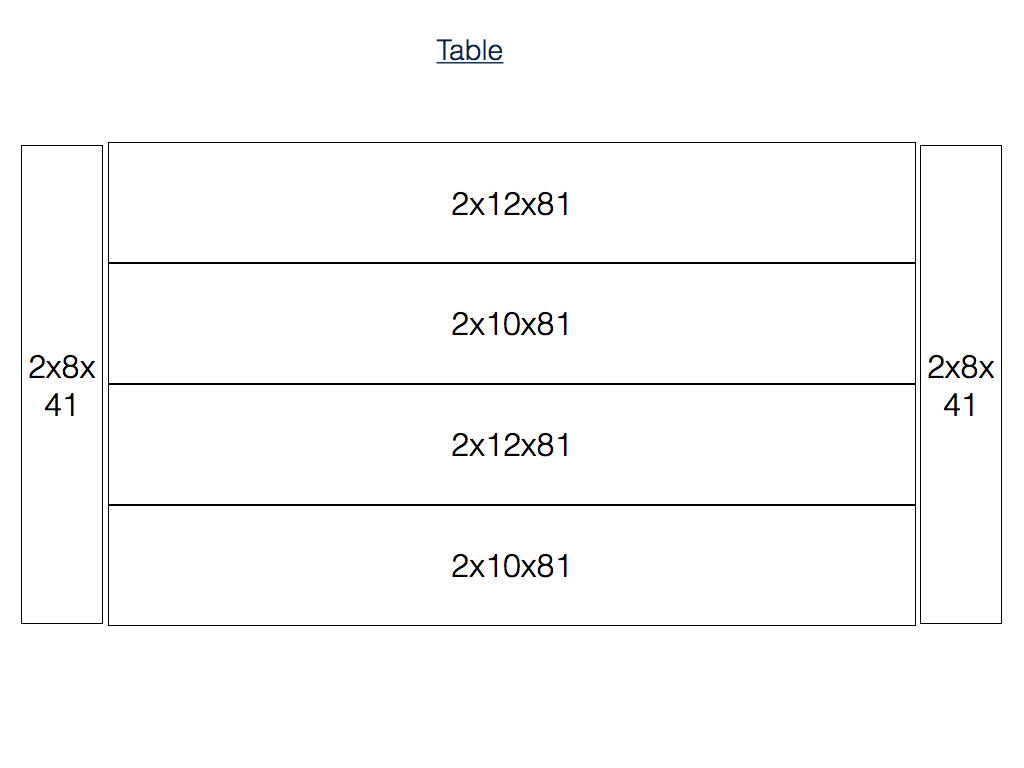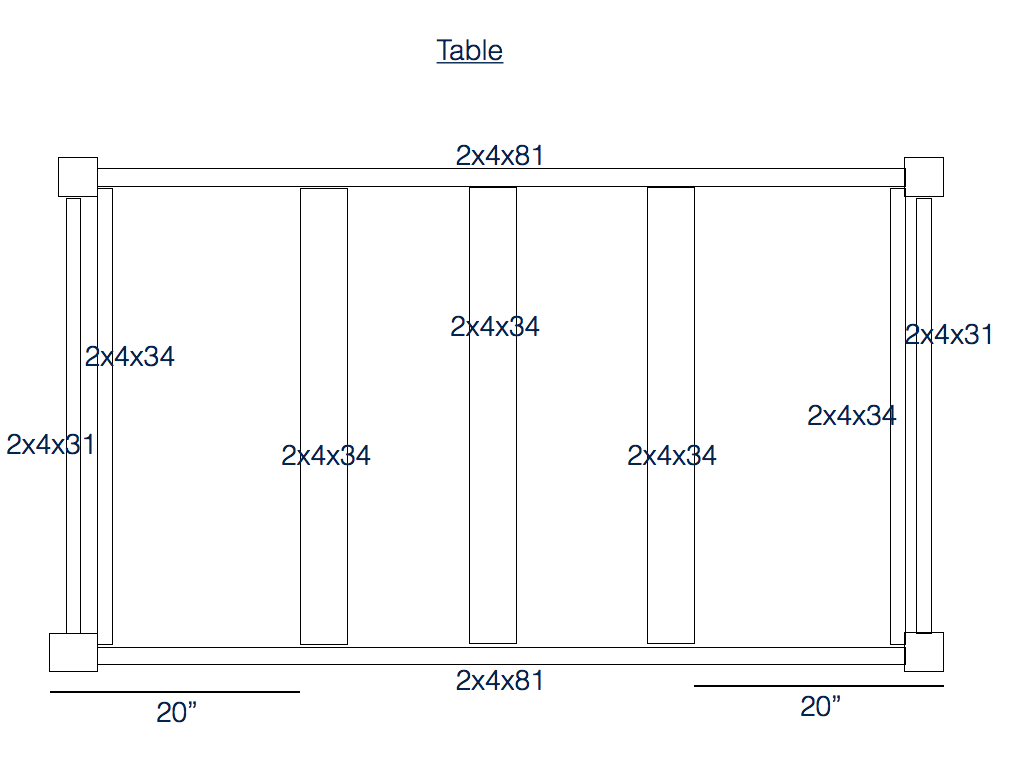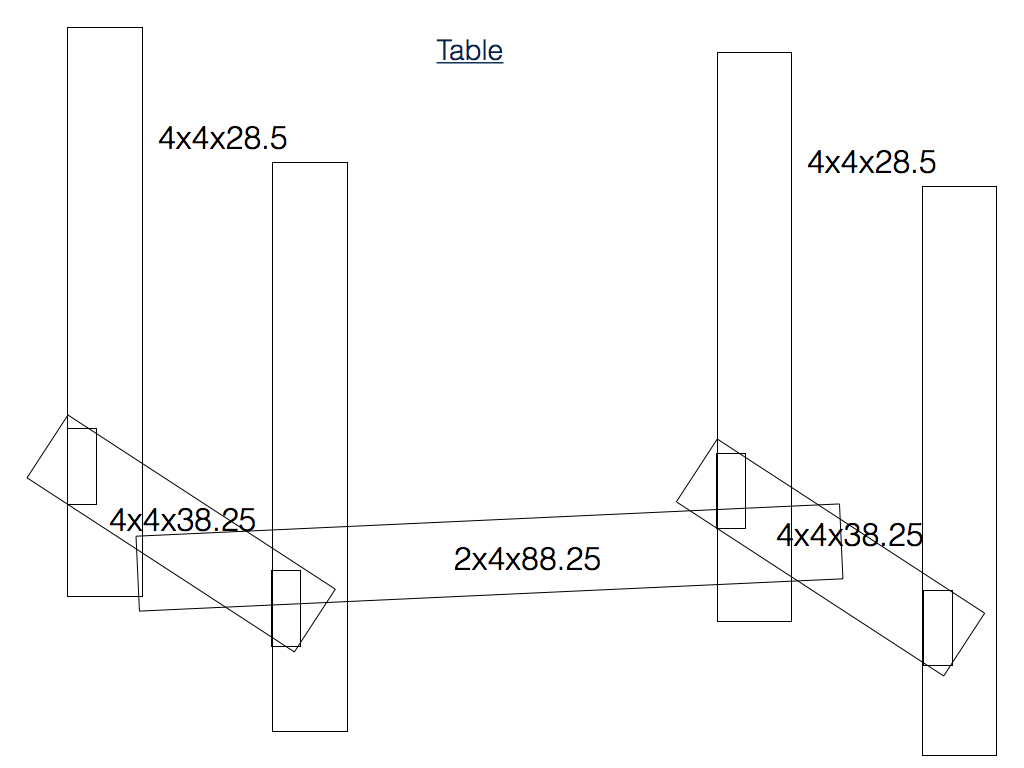 I decided to start this table by beginning with the tabletop. I take my 2×12″s and my 2×10″s and lay them on my concrete floor. I then mess around with different possible arrangements and look for any irregularities in the edges and fitment of boards next to one another as well as determining what will serve as the topside of the boards. For this table, I went with a 2×12, 2×10, 2×12, 2×10, pattern. The way the seams lined up on these planks were staggered so I marked off one end and cut them square (I left the opposite end untouched).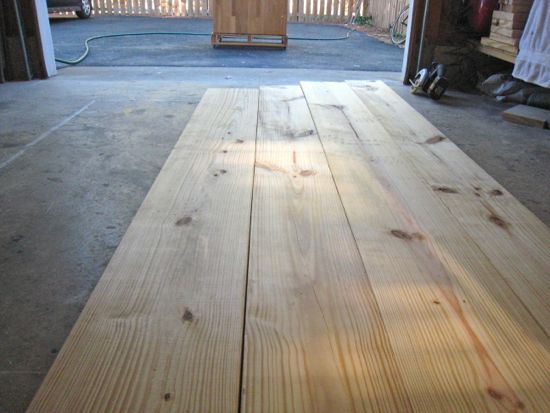 The end that was cut would become the end that I would line up flush during assembly. I made a mark 81″ from the edge so that I know where to distress/sand. To distress the wood, I take out a few items found around my garage and randomly hit them against the wood to create small indentations. I used to think that I wanted it distressed a whole lot but have come to find that I prefer for it to be subtly distressed. I have a couple of staple marks that I like to create one of which being a knot in the middle of the table that appears old/worn/weathered. To accomplish this I take my chisel and hammer and chisel away some at the knot.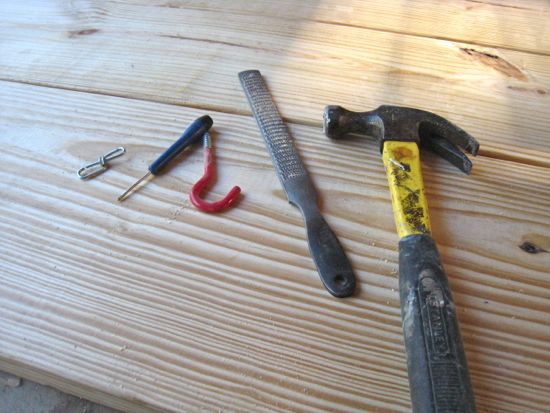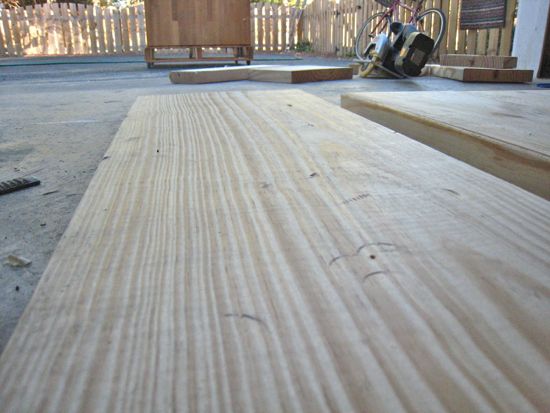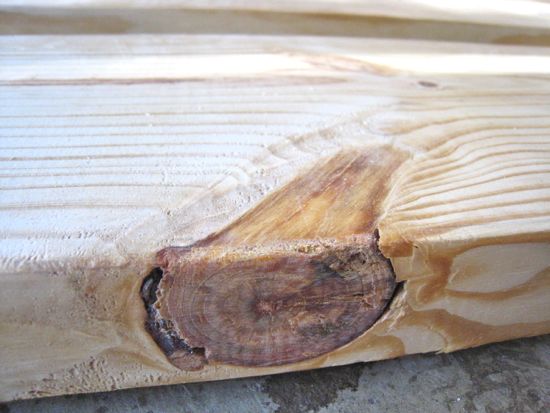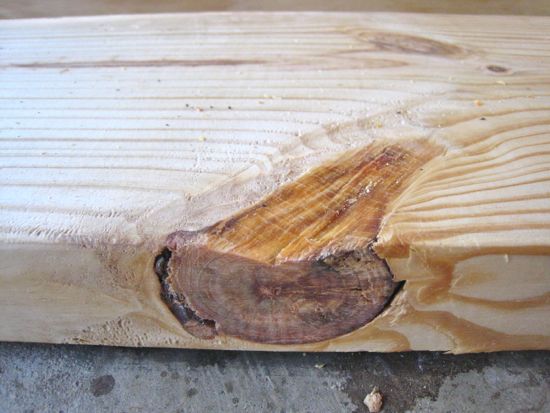 After it's distressed I make my marks for pocket holes. One of our readers recently made an amazing table and used dowels so I decided to give that a try for the first time ever on this table and I loved it. I purchased the same jig that he used found here. If you don't own a jig or want to buy one…..no worries, just skip over the dowels and use pocket holes (that's how I made all my other tables). To create pocket holes you'll need a Kreg Jig…..hands down one of the best tools you can own. I created a little picture to demonstrate how I drill my holes. Here's the measurements of each hole (Measurements starting from the flush end);
Pocket Holes (alternating every other from board to board)
4″
16″
28″
42″
52″
64″
77″
Dowel Holes
2.5″
21.5″
40.5″
59.5″
78.5″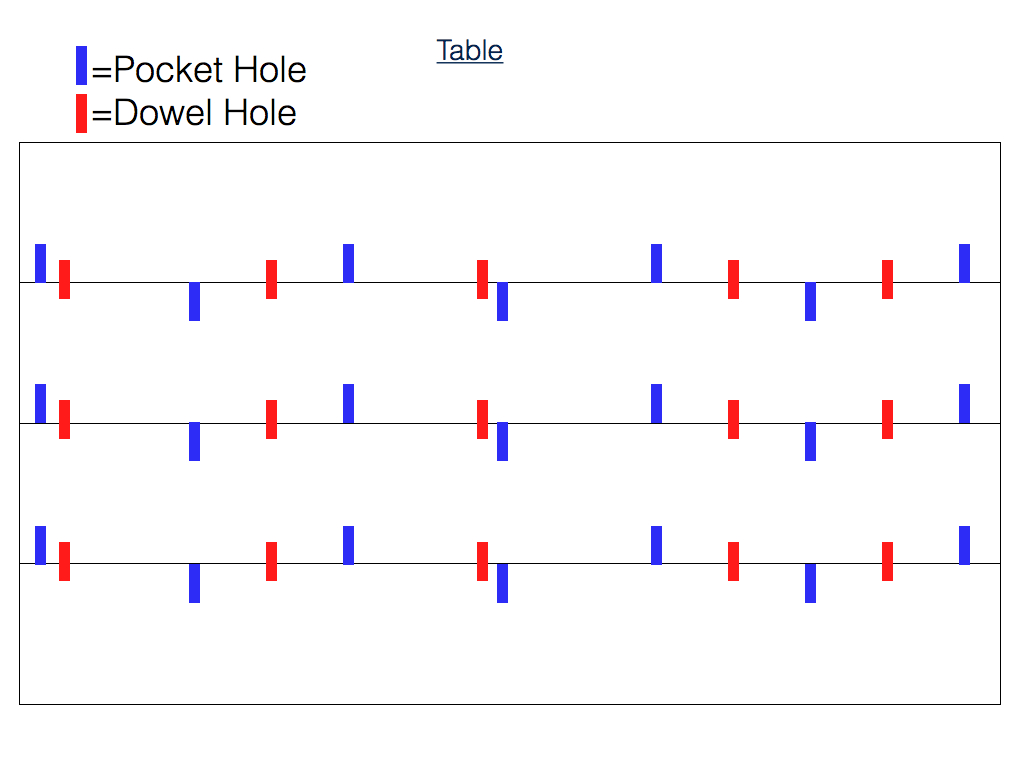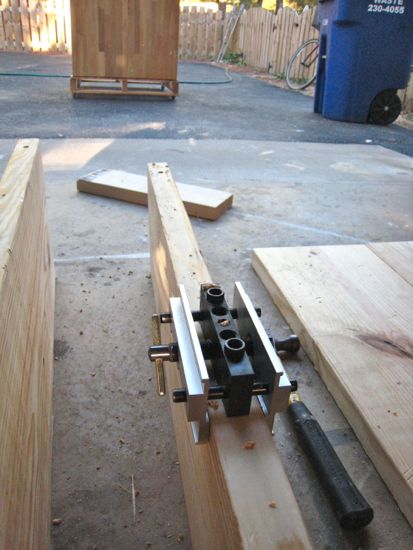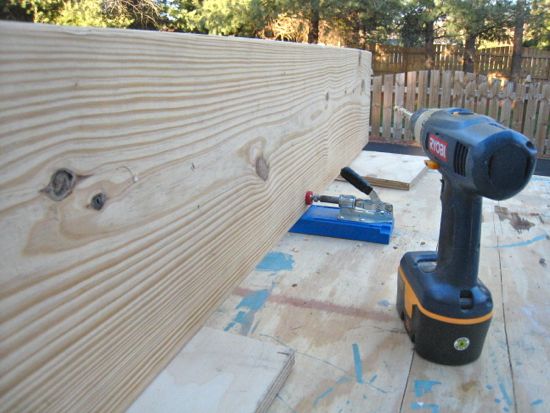 Once the holes were drilled, I sand each board down individually. I use a palm sander with 100 grit sandpaper. I sand down the spots that I distressed, the knots, the edges, and pencil marks.
Time for assembly. I use some wood glue for the dowels, place them in, and begin to clamp the first two planks into one another. I use an excessive amount of clamps for this part (it may be overkill but my preference is to have nice tight fitting seams).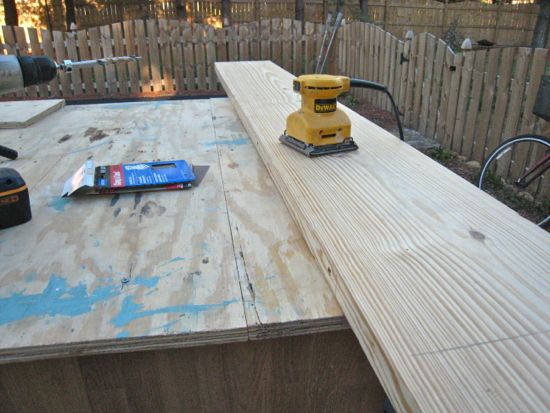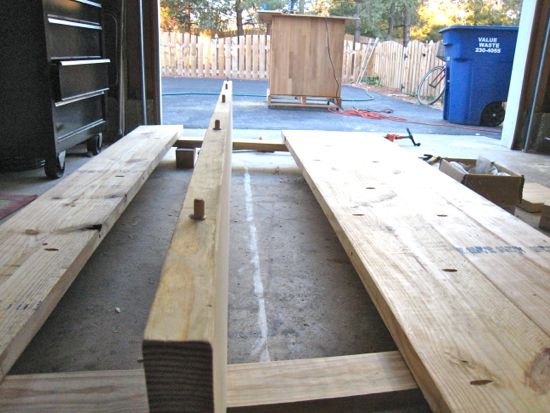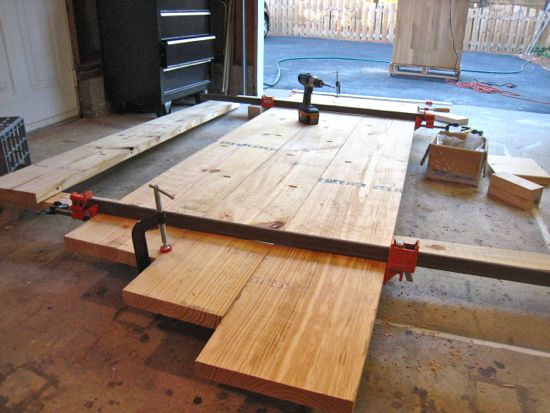 Once all four planks are screwed together, I test fit the breadboards onto the flush end and find the best fitting board. I take the other board to the other end. I mark the planks at 81″ and clamp down the breadboard to the planks to create a straight line for me to cut along. I then unclamp the breadboard and give it a test fit.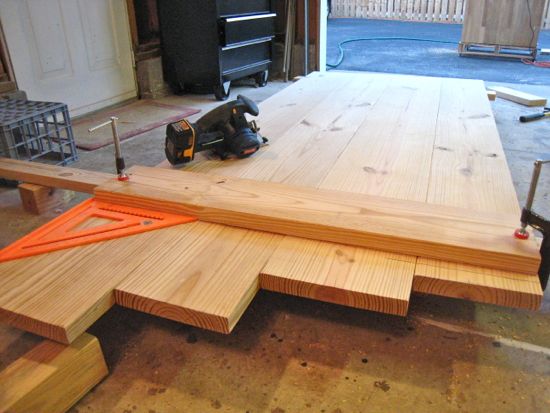 I created the jpeg below to show you how I drilled the pocket holes and dowel holes for the breadboards. To drill the holes on the planks, I clamp down one of the Kreg Jig accessories approximately 1.5″ from the edge.
Pocket Holes
2″
9″
15″
22.5″
30″
33.5″
39″
Dowel Holes
4″
13″
18.5″
24″
28.5″
37″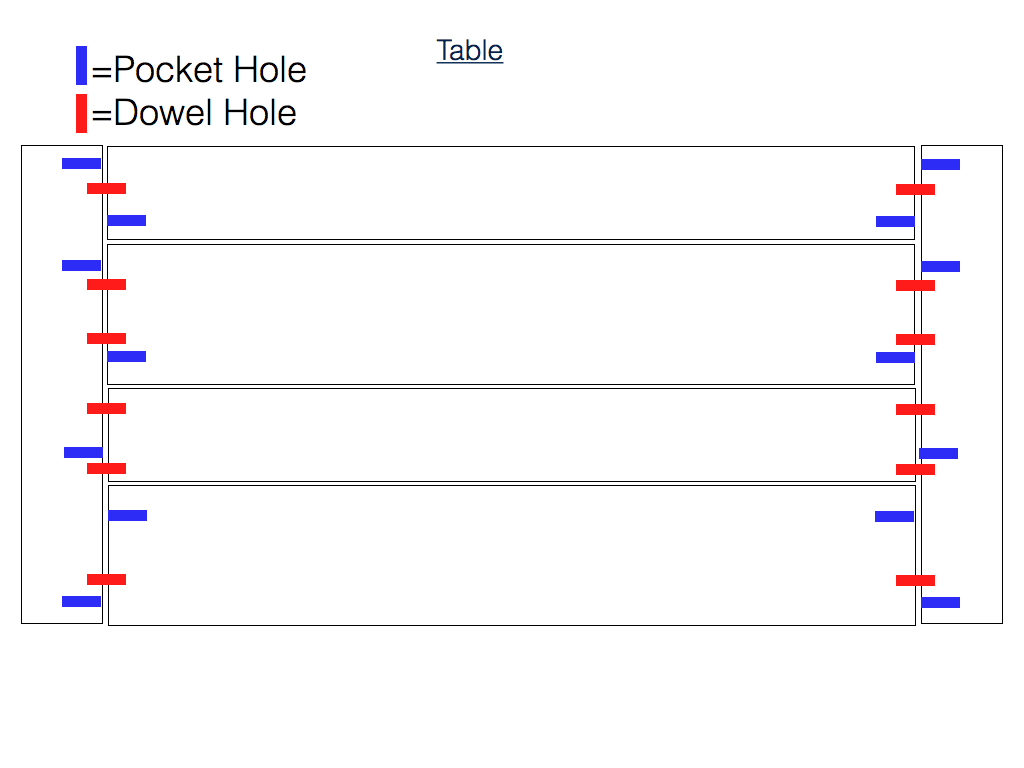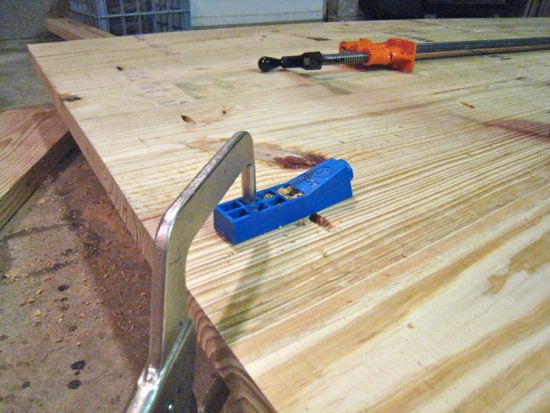 I use wood glue for the dowels as well as the seam for the breadboards to the planks. I use a series of clamps to try and ensure that it fits tight and level. Once those are attached, I use my router to round off all the edges (top and bottom) and give it another good sanding. I then move the tabletop off to the side.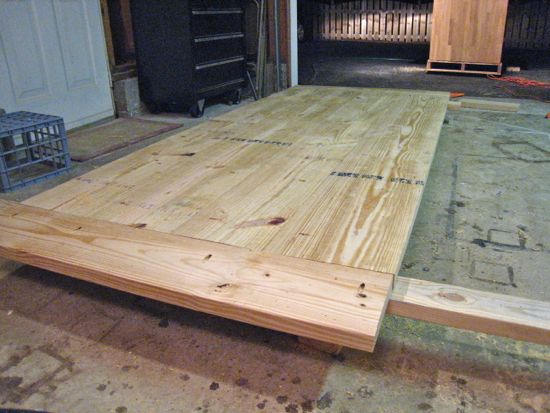 To build the base, I begin by cutting all my wood down to size (the picture also shows the bench legs that I cut at the same time). I like to begin by working with the 4×4″s and making my notches. Beginning with the legs, I inspect each 4×4″ and pick out which side of the leg that I want the notch to be taken out of (typically it needs to be flat and square….also it's typically the side opposite of the ugliest side of the leg). I make an arbitrary mark to help remind me of what and where I want to cut. I set my table saw blade to approximately 1.5″ tall and set it approximately 3.5″ from the fence. I make my first cut and double check the depth of the cut. I make all my first cuts on each leg and then I adjust the blade to approximately 7″ from the fence. I then make all my last cuts on each leg. Then I make a bunch of subsequent cuts in between the first cut and the last. I use my hammer and chisel to break out the little slivers. It's still rough after this so I take it back to the table saw and swirl it around to smooth out the cut. I made a video of this part 
found here
 (this is real dangerous and I can't advise anyone else to do it this way…..but this is how I do it).
For the 4×4″ stretchers I begin once again by making my arbitrary marks (this piece can be a little confusing so the marks are important). I cut the middle notch out first (the one for the bottom stretcher). I set my table saw blade to a height of 1.25″ (I like to have the bottom stretcher poke out a tiny bit). This is the hardest cut to make. The most important part about this is that the cut is centered on both pieces. I set the blade 17 3/8″ from the fence. I send it through once, then spin it around and send it through again, and check to make sure that it's exactly 3.5″ of spacing. Once that's right, I follow the same procedure of making tiny cuts, knocking the slivers out, and using the blade to smooth out the cuts.
If the middle cut is the most difficult the end cuts are the most dangerous. I start by setting the blade to a height of 2″ and move it 3 5/8″ from the fence. I do some test cuts to ensure that it then leaves exactly 31″ remaining. Same process to notch out although you need to be real careful as you are making the end cuts.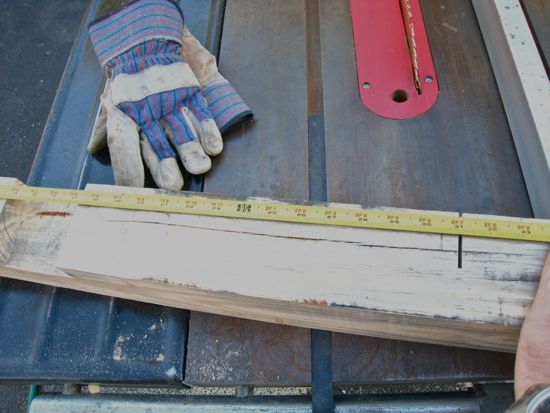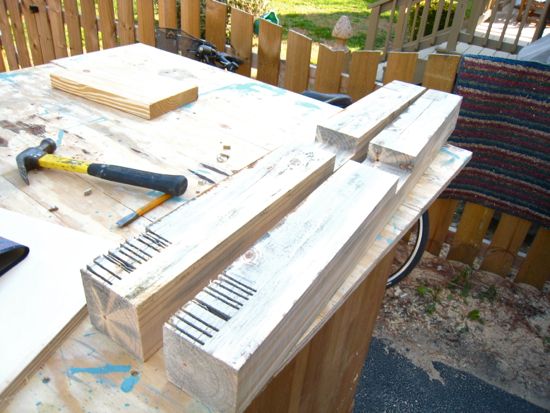 The hard parts over and you can give it all a good test fit. If you make your cuts with precision/accuracy you should have fairly tight fitting pieces.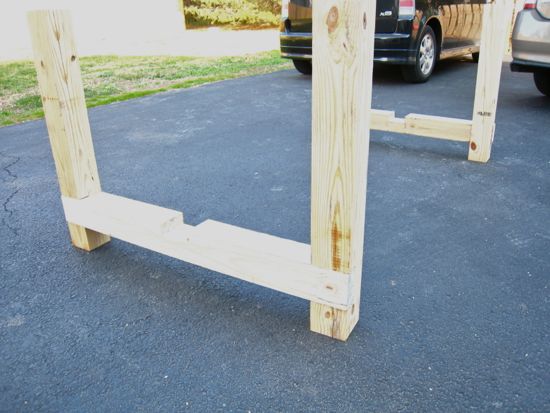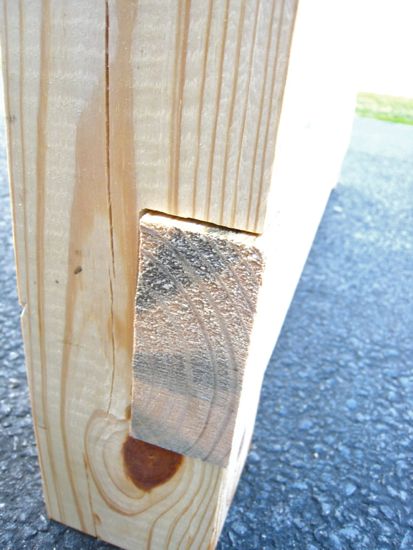 Now it's time to move onto the easier stuff. Banging things together.
I use the same tools as I used on the tabletop and distress on the exposed faces of the boards that will form the base.
Once distressed, I drill my pocket holes using the Kreg Jig. For the top holes I clamp down the Kreg Jig accessory.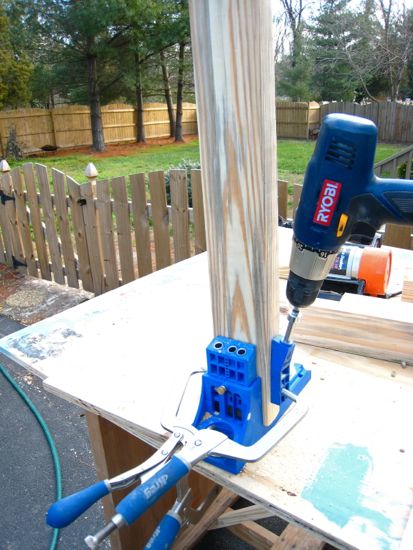 Here's some details of where I drill the pocket holes.
For the side aprons (2x4x81);
Top edge of each side
Bottom inside edge of each side
4 holes going towards the top; 4″, 24″, 57″, 77″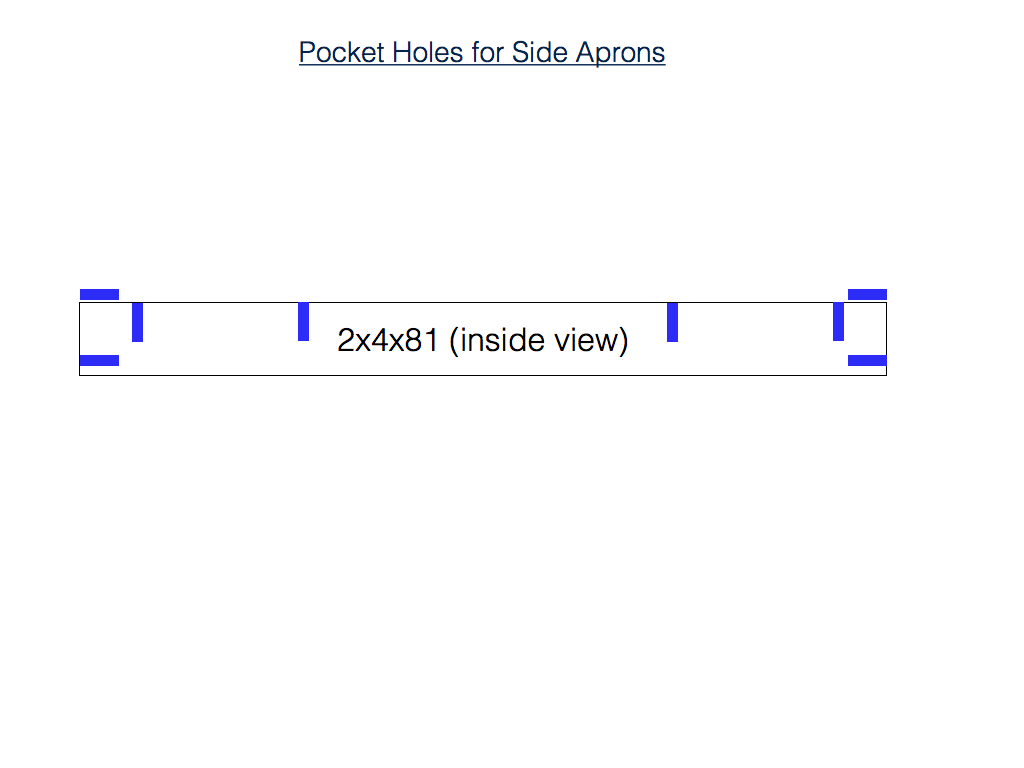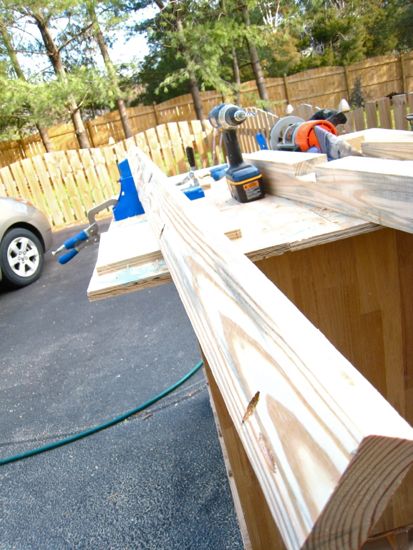 For the end aprons (2x4x31);
Top edge of each side
Bottom inside edge of each side
4 holes going towards the top; 3″, 11″, 20″, 28″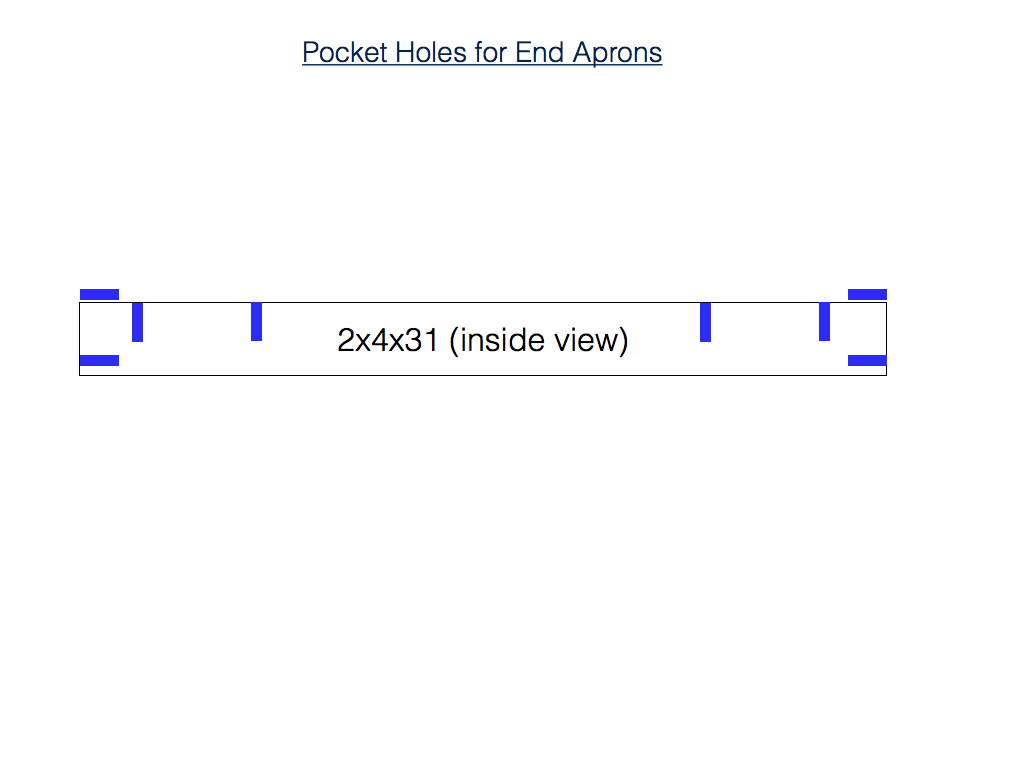 For the inside end aprons (2: 2x4x34);
Top inside edge of each side
Bottom inside edge of each side
4 holes going towards the top; 4.5″, 12.5″, 21.5″, 29.5″
For the supports (3: 2x4x34);
This is where I'll give the disclaimer that I am by no means a professional on anything. I'm continuously learning and trying to figure things out. Nobody's taught me the correct way of doing any of this….I just wing it. So the finishing process is just how I do it. For me personally, I want to build a table in my garage that doesn't look like it's a table that I built in my garage. I want the table to look rustic but I also want it to be a high quality table that will last for years and years. I want it to be natural and not loaded with epoxy/shellac. I want it to look good. Here's how I attempt to accomplish those things.
Lately, I've been using a hand planer to smooth out the seams, edges, and breadboards. I bought a simple planer and run it along the seams a bunch to give me a nice smooth transition. It's going to be a dining room table after-all….so I'd like to be able to slide a plate across the table. Once it's planed I give it one last sanding. Right before sanding I take a damp cloth and wipe off any remaining saw dust.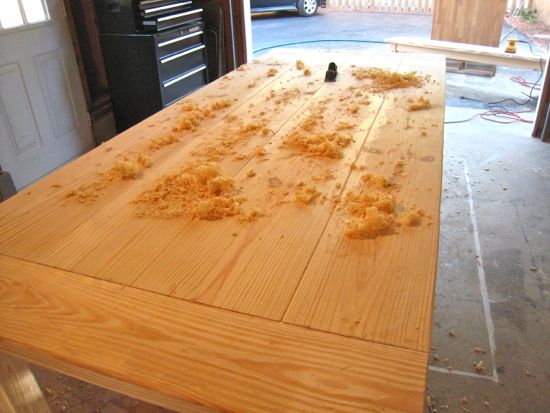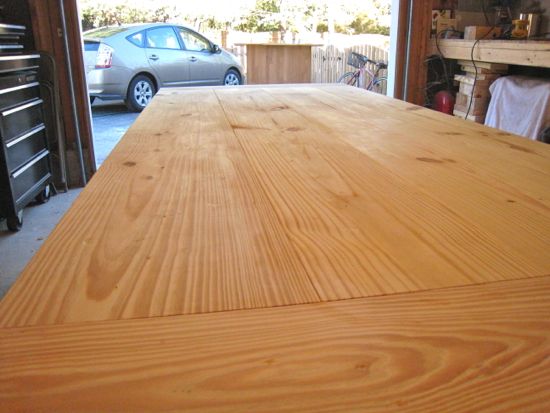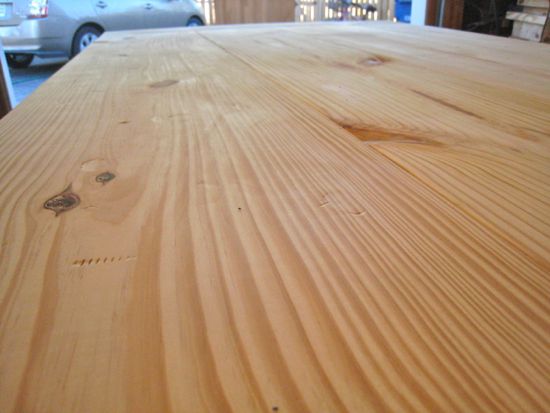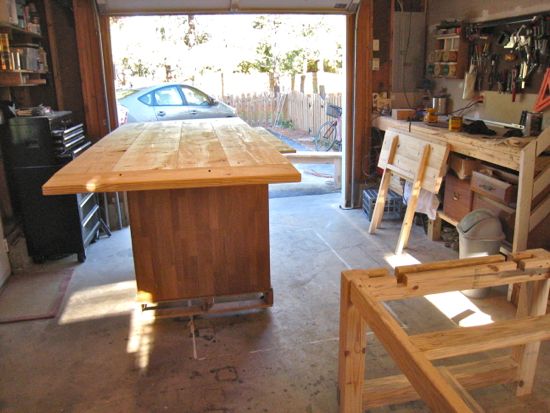 UPDATE! I've recently started finishing the tables using a different method. At some point I will have a detailed and documented post but the long story short is after it's sanded down I use Pre-Stain Wood Conditioner, then 2-3 coats of stain, a coat of Sanding Sealer, then 4-5 coats of General Arm-R-Seal, and then 2 light coats of Briwax….all with some 220 grit sanding in between.
I start by staining the underneath side of the tabletop and then every nook and cranny of the base, bench, and extensions. I always wear a set of gloves and use real cheap sponge brushes. I go through a lot of these sponge brushes so rather than buying a bunch from Home Depot, I started ordering them online from
here
. I lay the stain on like a good coat of paint and I don't wipe off excess. Here's the first coat;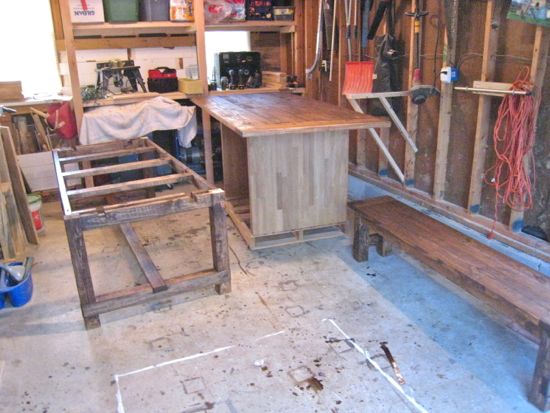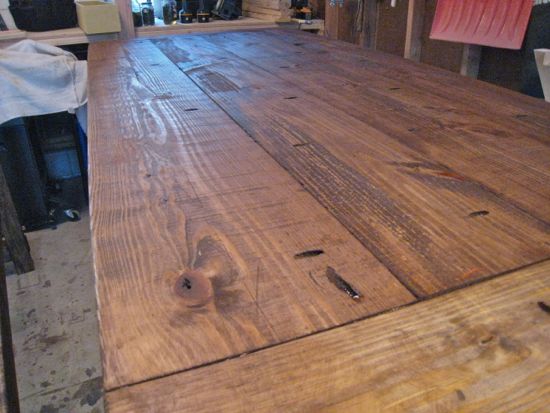 24 hours later, I then flip the tabletop over, stain the topside, and apply a second coat of stain all around;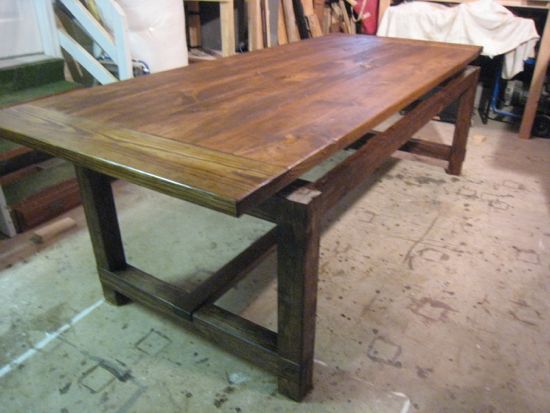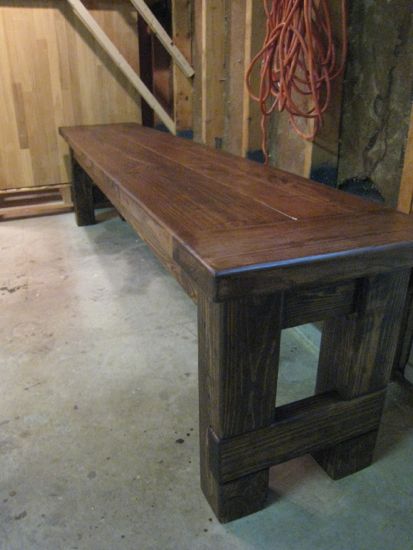 Another 24 hours later, after the second coat of stain, I use my orbital sander with 220 grit sandpaper  and smooth it all out. It takes some of the shine away but no worries the polyurethane will bring it all back. Make sure the stain is dry and be careful along the edges and keeping the sander in one place for too long. After it's sanded down and smooth, I wipe it down with a damp cloth and apply a coat of clear gloss polyurethane. At this time, I also do a second coat of stain on the topside of the tabletop.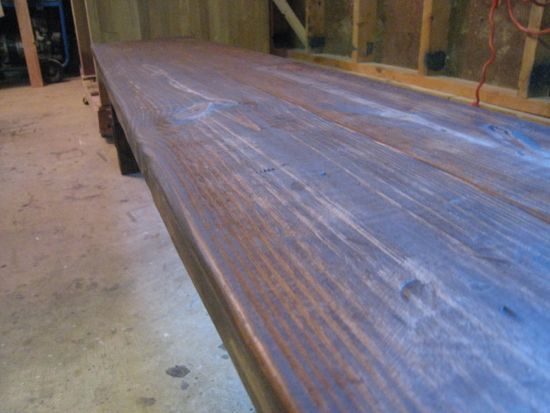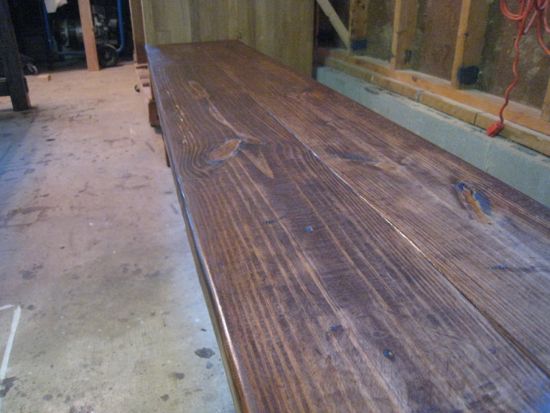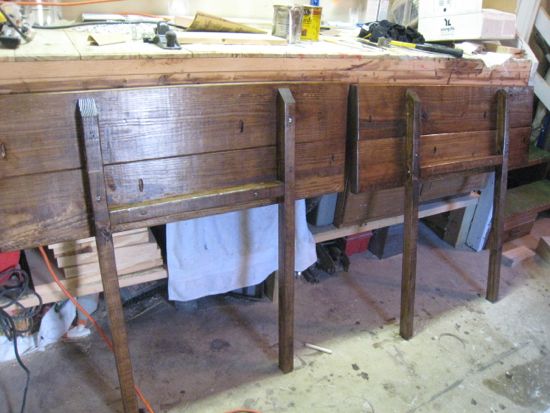 The base, bench, underneath side of the extensions get a second coat of polyurethane.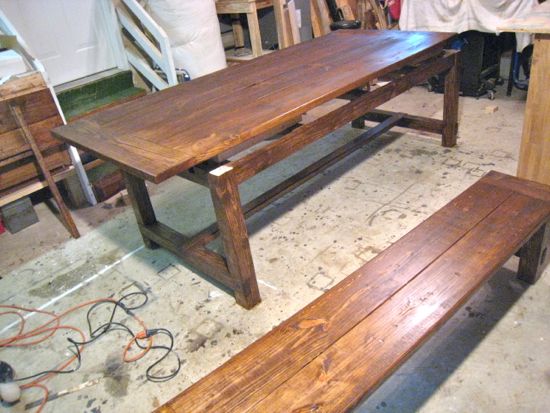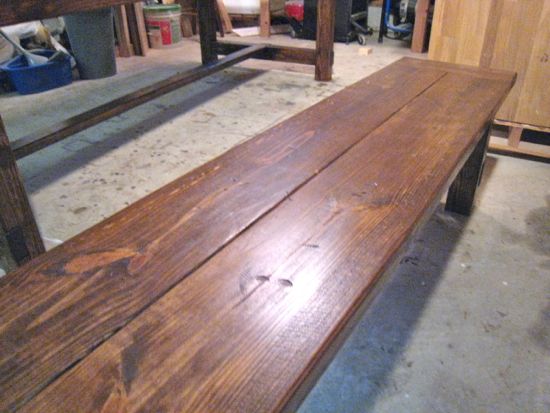 I like to sand down the benchtop after the 2nd coat using 220 grit sandpaper and then apply a 3rd goat of poly.
I sand down the tabletop with 22o grit sandpaper, wipe off the dust, and apply my first coat of Briwax. I like to use the Briwax because it protects the wood, keeps it shiny, but yet keeps it looking shiny/nice. If you decide to use Briwax as well, you'll need to reapply a coat every year or so. For a more permanent finish you can use polyurethane, shellac, or epoxy….but i would recommend tasting it out on a sample piece first and see what you like. I'm a big fan of Briwax….and I buy it for $10 from
Amazon
.
For the Briwax, I just use any old rag and wipe the wax on making sure to get it into the pores of the wood. After, 10 minutes or so, I use a different rag and buff out the residual wax.
I then apply a second thin coat, wait 10 minutes, and buff that out.
Now it's just time to attach the tabletop to the base. I found the easiest way to do this is to use the extensions as a way of helping me align the center of the tabletop. I place the extensions in and use my hand to align it all. I then just measure out a 4″ overhang on both ends. Once it's in place, I clamp it all down, climb under the table, and screw it into place using all the pocket holes created in the aprons and a few screws through the supports.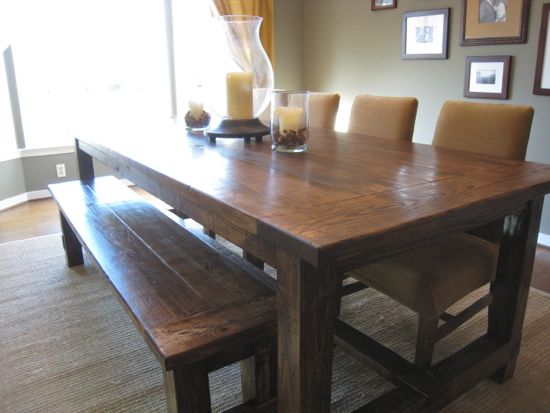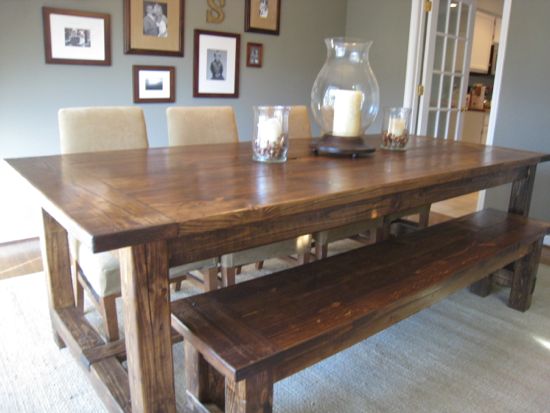 There you have it…..the new and revised details of how to build your own Farmhouse Table. It's crazy detailed and I hope that it all makes sense. Let me know if you have any questions/feedback…….I'd love to help.
p.s. You may be wondering…"What happened to the original table?" Well, we sold that one. Truth be told, this one's for sale too.
Comments
There are no comments on this entry.
Trackbacks
There are no trackbacks on this entry.