Built-In Bookcases and Living Room Reveal
One of the big projects we've been meaning to tackle is to build some built-in bookcases around the doors in our living room. I've been putting this off until we changed the flooring (that way the baseboard would already be ripped off). Well, the time had come…..and thus began the research phase of looking at bookcases. I was hoping to buy pre-fabricated bookcases and just trim them in…but ended up needing to build the bookcases from scratch for a couple reasons;
I wanted them to be exactly 96″ tall.
The space on the left side of the door was 2″ wider than the right. If I placed the same size bookcase on both sides, we would either have a noticeable difference around the door frame or I'd have to come up with some creative way of hiding the difference where the bookcase meets the wall.
Pre-fabricated bookcases are more expensive (although IKEA ones are very reasonably priced).
To make the bookcases, I decided to try out the PureBond plywood that everybody has been raving about in Oak. I had Home Depot rip sheets down to 11.5″ strips. Once I got them all home, I used my circular saw and a straight edge to rip them down to the size needed for the shelves. For the pieces that were going to serve as the sides, I clamped down a straight edge and used my router paired with a 3/4″ rabbiting bit to cut dados in all the spots that I wanted a shelf. Here's what that looked like;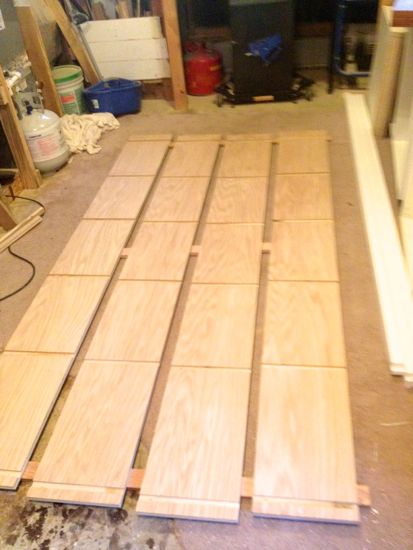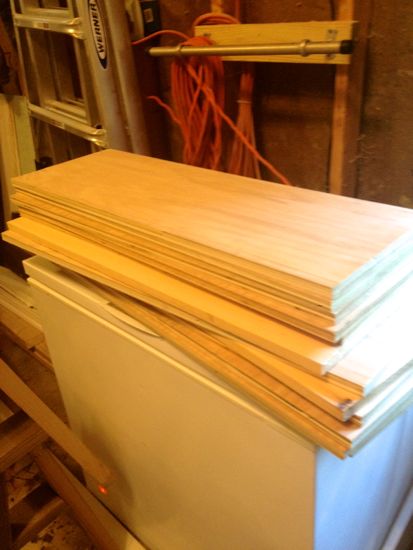 The plywood was real smooth already but I ended up giving it a little sanding and then applying a first coat onto everything. I figured that it would be easier to paint before assembling. To attach everything, I just laid it on it's side, spread some wood glue on the edges, held it flush, and then drilled in some countersunk screws. I also used a few finishing nails just to ensure it was in there nice and good.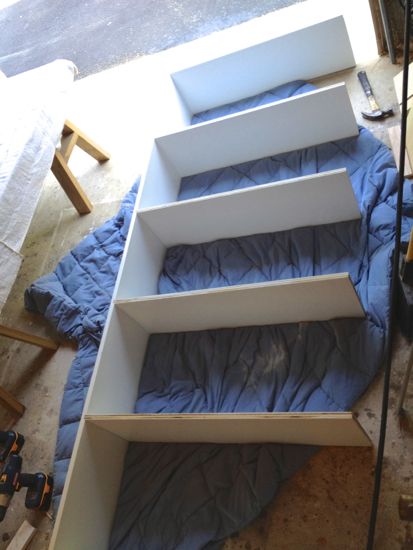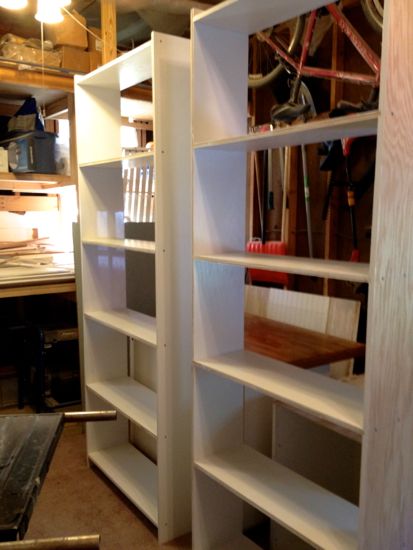 I decided to add a little face frame to the bookcase and used some primed 1×2″s from HD. To attach these I used wood glue and the finish nailer. I filled all my holes, sanded, and put on another coat or two of paint. (Sorry I forgot to take pictures of this step).
The were ready to be moved into the living room and then finished off with trim work. I used some crown molding on the top and wrapped the baseboard around the bottom.
We still need to figure out the styling of the bookcases but the living room is finally starting to shape up. After the bookcases were installed I then could finish installing the rest of the baseboard, buy some new shoe molding, stain it to match the floor, and nail into place. Here's how everything has turned out thus far;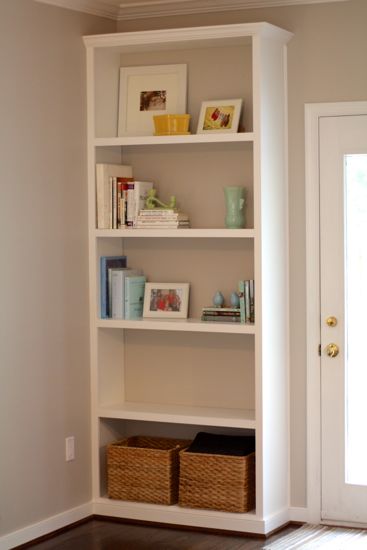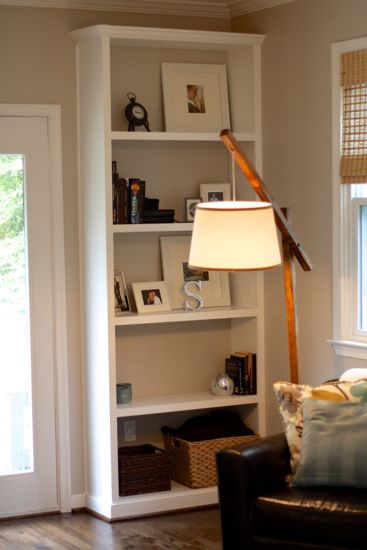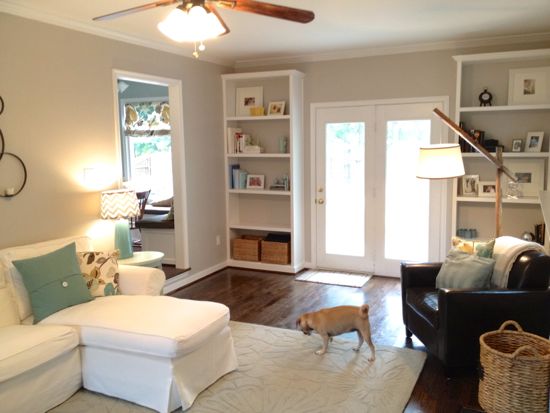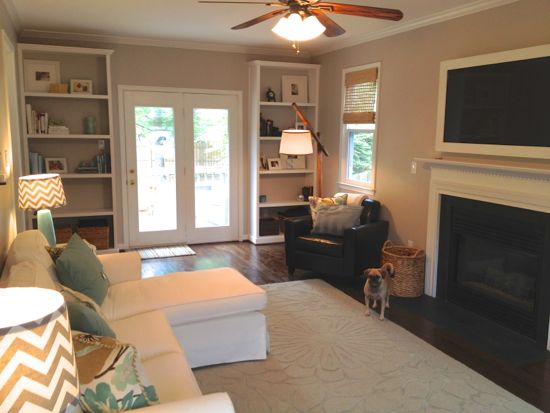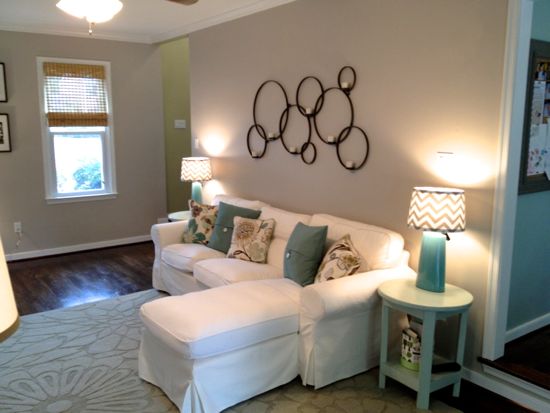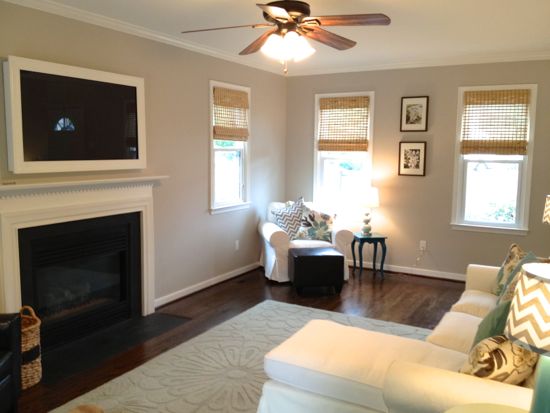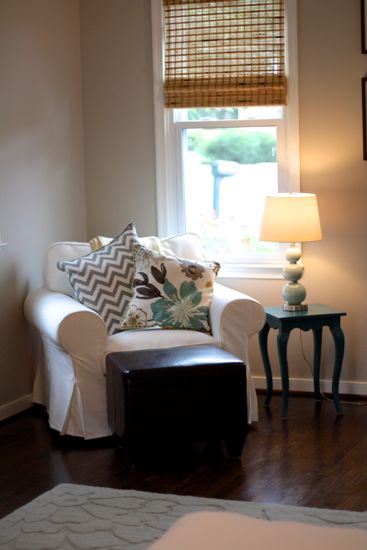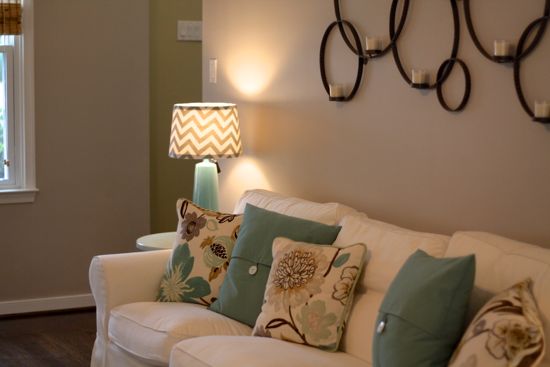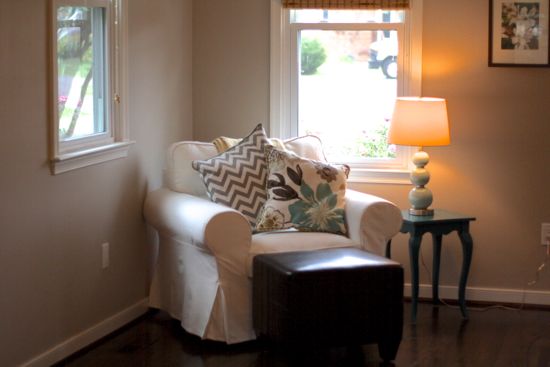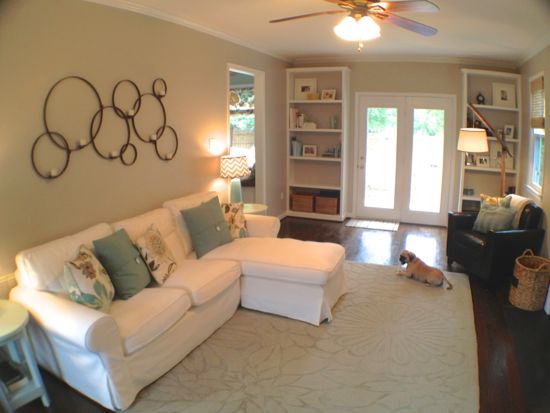 You may have noticed a couple of other new changes…..most of which were made from scraps/leftover material. Can you spot them?
Comments
There are no comments on this entry.
Trackbacks
There are no trackbacks on this entry.