Boxed Cushions with Welting – Part 1
When Tommy built our L-shaped window bench in the kitchen last Spring, I broke out my mom's sewing machine and cut up an old memory foam mattress to sew some make-shift window cushions using cheap, solid brown fabric that I bought from JoAnn fabrics. Emphasis on the words "make-shift."
One of my big projects this winter has been to replace my first cushions with the help of my new Elna sewing machine (a wonderful birthday gift from my parents).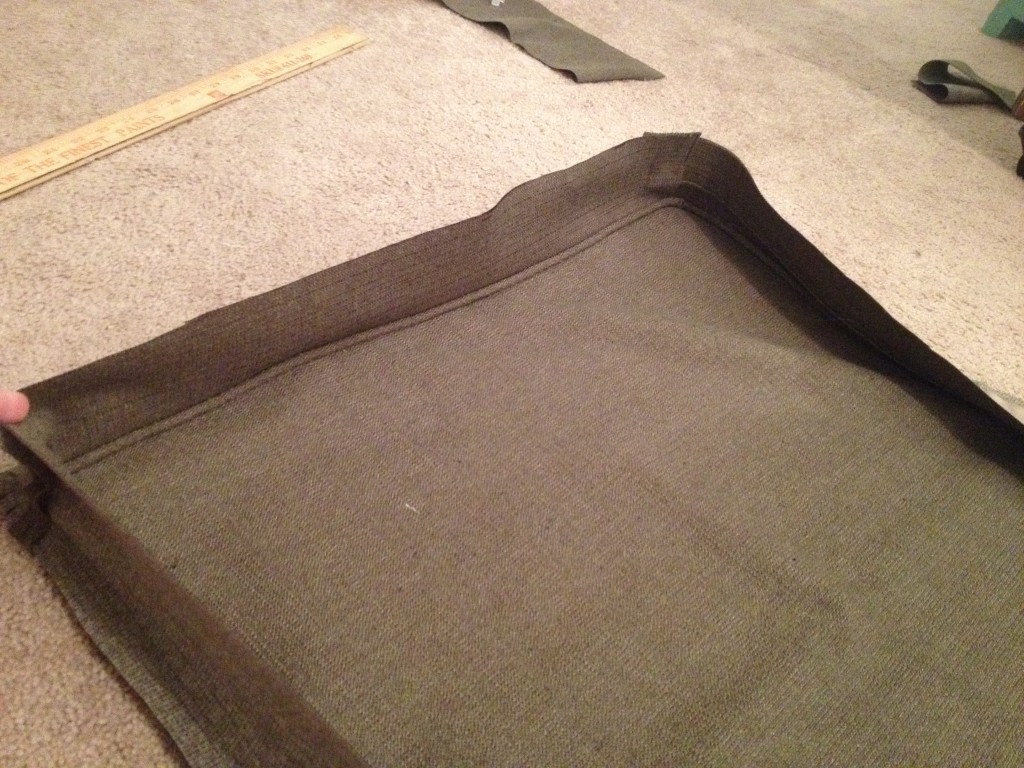 I am going to break these instructions up in several posts, so keep coming back for the full tutorial.
Things to know/Supply List:
You want to use welting (e.g. cording). It's worth it to take the extra time to make the cording (or you can purchase it, but it will be more expensive). It creates a more finished look, and it gives visual shape to your boxed seat cushions.
You'll need two times the circumference of your seat cushion, plus seam allowances. I used 5/32″ cording.
Use a firm or medium density foam for the seat cushions. We had to purchase ours at a special upholstery shop in Ashland, but I have seen some medium density foam at Hancock Fabrics, too.
Upholstery bonded polyester batting to wrap all sides of the cushion. This will be one of the first things you do, using spray adhesive.
Purchase an upholstery zipper (or two) about 8″ longer than the back width measurement of your cushion. This zipper will be installed along the back side of your cushion (facing the wall or window) and it will extend around 4″ on each of the two sides to make it simpler to insert the foam cushions into the finished cover.
Decorator fabric. I purchased mine at U-Fab here in Richmond. For this round of cushions, I selected a medium-weight fabric with a little bit of texture to it to minimize the appearance of dirt and dog hair which seems to magically accumulate within about 24 hours at our house.
1) Measure the width and depth of the cushion area to determine the size of the finished cushion.
2) Cut the top and bottom pieces of your fabric. Cut them 1 " larger than the finished cushion size for seam allowances.
3) Cut the zipper strips, each the length of your zipper tape (the width of the back of your cushion, plus eight inches). Each zipper strip should be half the thickness of the finished cushion plus 1″ for seam allowances.
4) Cut your boxing strip the length of the cushion front plus twice the length of the cushion side. Cut the side strips 1.5″ wide, with the length 2 x the circumference of the cushion plus seam allowances.
Next post….sewing the zipper strip.
Comments
There are no comments on this entry.
Trackbacks
There are no trackbacks on this entry.