Sawhorse: Steel Wool Aged Technique FAIL
I went from super excited to super bummed in the matter of 24 hours. I was real excited to try out a technique that I've been hearing about for awhile to make new wood look aged. As in….gray/weathered.
The making of this concoction is Apple Cider Vinegar and a piece of steel wool. You simply pour your apple cider vinegar over a piece of steel wool in a glass jar and then set aside for approximately 24 hours. It should leave behind a brownish liquid that you then use as your "stain." It goes on pretty clear, soaks into the wood, and then as it dries it begins to turn the wood gray.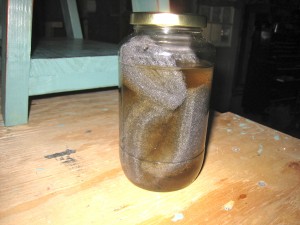 I know that it works because it overflowed out of our jar and onto our wood countertop island and stained a big chunk of our counter (I had to sand the whole thing down and reapply poly). However, it turned out really light and not quite what I was hoping for on the 1″ planks of whiteboard that I purchased from Home Depot. I even tried three different samples of the concoction (One with several pieces of steel wool, one with a lesser amount of vinegar, and one normal).
I was really committed to the gray look for the tabletop so I needed to figure out something else. I decided to try out colored stain. I bought two small bottles….one in a color lighter than our wall color and one in a darker color than our walls. I ended using the darker.
Since it was such a small bottle of stain and such a long tabletop, I ended up using leftover wall paint to paint the underside of the tabletop. On the topside, I did two coats of the paint/stain and finished it off with Briwax (Clear) to give it a shine.
Here's a refresher of how it turned out;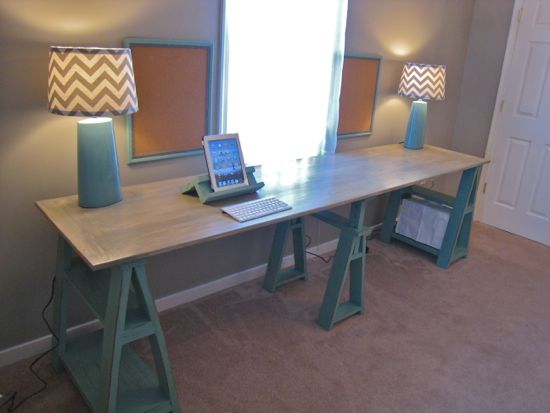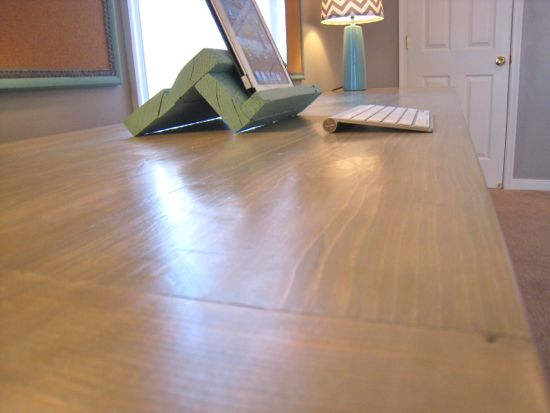 So…..have you had any success with the Steel Wool Mixture? I'd love to see some finished products if you did….I still want to use it somewhere.
Comments
There are no comments on this entry.
Trackbacks
There are no trackbacks on this entry.