He's Heating Up, He's on Fire!
Boom shaka laka. Santa Claus came to town and brought my Mom a custom made step stool for our nephews. Since, Santa was so generous we thought we'd share the details on how we made some scrap wood turn into a pretty awesome firetruck step stool. The best part about this project is that it was a true matching of both Ellie and I's gift sets…..Tommy=building, Ellie=art/design.
Here's how it started.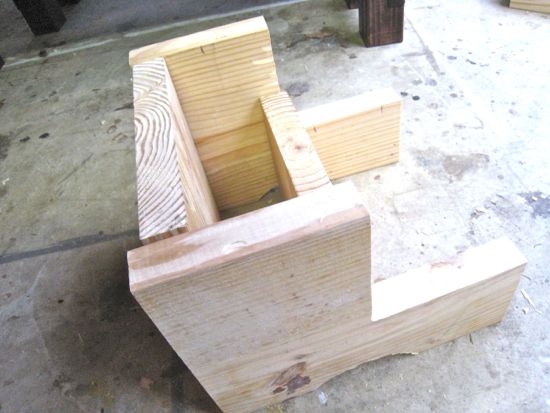 And here's the finished product;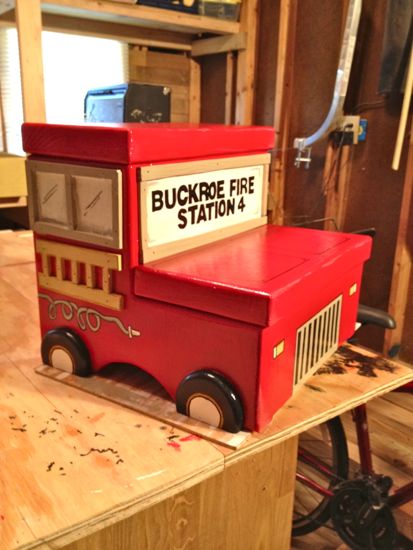 I took a bunch of pictures throughout the process and uploaded a gallery that you can check out here;
Two things you should know: 1. I save just about every piece of scrap wood I get and 2. I've been pretty busy with some projects lately. I gathered together all my scrap 2×12″s to figure out the overall size and dimensions that I wanted to build this step stool. I used some Ana-White plans as a general framework for what would work. Essentially, I wanted to use 2×12″s with the least amount of cutting….so it's overall dimensions turned out to be 14.5″w x 13″t x 14″d.
The sides were my longest pieces so I started with those and cut two 2×12″s to 14″ long. I then cut my step shape into each side. I clamped them together and sanded the edges so that they would be identical. Once that was done, I cut a small arch into the bottom of them using a jig saw and the top of one of my coffee cans.
Once the sides were made, I cut the back piece and the middle piece. The back is 11.5″ x 11.5″. Because of where the arch was placed, I needed to make the middle piece shorter. A random piece of scrap fit the bill. Even though I was planning on painting it, I still wanted to minimize covering up and holes or screws, so I placed some pocket holes on the inside as best as I could. I then wood glued, clamped, and screwed together the side, back, and middle.
Then I added the steps which were some scrap 2×8″s cut to the exact width. And also one additional piece for the front.
I used some spackle to fill the seams, cracks, and holes. I sanded those down and then decided to add some wheels onto it. With my jig saw, I cut some simple circles and nailed those to the stool.
While I was waiting for Ellie's expertise on the paint job, I decided to prime it with some gray paint.
We bought a little sampler of some very bright red paint and put on about 5 coats of paint on. After the red was set, Ellie's creativity and artistic abilities came in to bring the stool to life.
The only real vision we had for the stool was that we wanted it to be a firetruck. Ellie whipped out her paint brushes and started to doodle. As we went along, it really started to take shape. We added some trim pieces and a ladder to give it some depth. And then Ellie really knocked it out by adding some cool details with a fine tip marker and a fine point paint brush. After that, I put 3 coats of gloss poly on it
The last step was to present it to my Mom. She loved it…..and Camden also was excited to start putting it to use.
We'd love to hear what you think…..Do you like how it turned out? Does it pass as a firetruck?
Comments
There are no comments on this entry.
Trackbacks
There are no trackbacks on this entry.