Pallet Boxes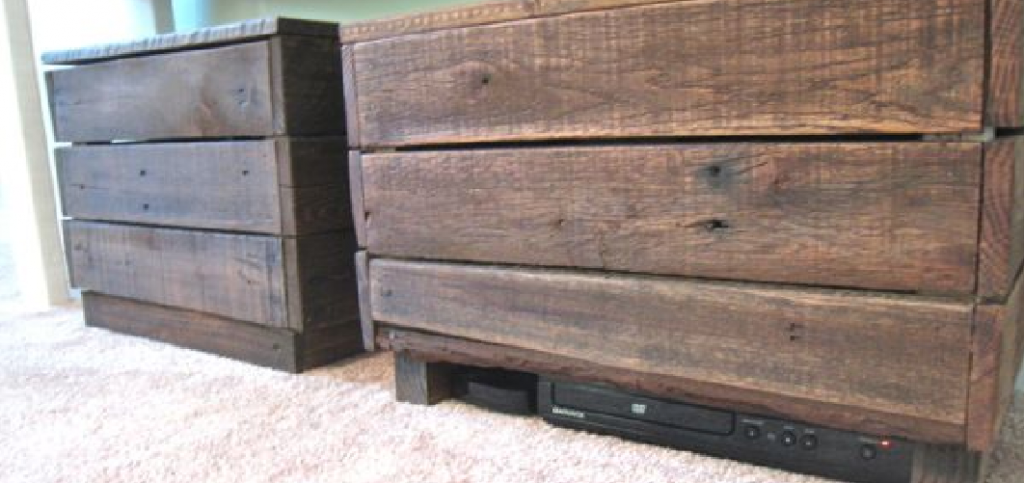 Believe it or not, I still have some remnants of the pallets that I brought home during the summer. Our new console table was itching for some friends so I decided to whip up some small boxes to go underneath it. Partially to hide some of our electronics and partially to fill the space.
To build them, I started with a scrap piece of MDF to form the bottom of the box. I then used some scrap 2×2″s to form the posts of the interior of the box. I screwed those in from the underside. Once those were in place, I simply used my finish nailer to nail in place some wood from pallets. I needed to hide our DVD player and Apple TV underneath them so I mounted the entire box onto of two 2×2″s. For the box that doesn't have the DVD player under it, I finished off with a thin piece of pallet.
To construct the lids, I cut two thin pieces of scrap to the depth of the box and then nailed in place several pieces of pallet. I intentionally picked out certain pieces that would allow me space to stick a finger in to lift the lid up.
Once constructed, I slapped some "Special Walnut" stain on them, let them dry, and they were good to go. Here they are;
One small change. Ellie didn't really like them underneath the console table….so we decided to try and find a new home for them. We stacked them and turned them into an end table. Whatcha think?
Where should we keep these boxes? Under the Bailey Console Table? Or stacked as an end table?
Comments
There are no comments on this entry.
Trackbacks
There are no trackbacks on this entry.