Roadside Freebie
So this happened a while ago but I thought it would be worth sharing. We're always looking for a good deal; checking out thrift stores, antique stores, Habitat for Humanity: Restore, and creepily strolling by yard sales. Essentially, we keep our eyes open at all moments to find things that are free/cheap but could be turned into something awesome….i.e Free Pallets.
It was a couple months ago when I was driving to the ol' Home Depot when I saw on the side of the road a sign that my eyes always gravitate towards "FREE." Out on their front yard they had a sheet laid out and several household items; picture frames, christmas decorations, glass vases, some other items, and these 4 matching iron lamps.
I immediately thought that Ellie would love these and that they would be perfect for the apothecary console that I was building at the time. She loves burlap and I thought for sure that I would earn some extra brownie points if I picked these up. I was contemplating just picking up the two that had shades but then said "what the heck, I'll take all four."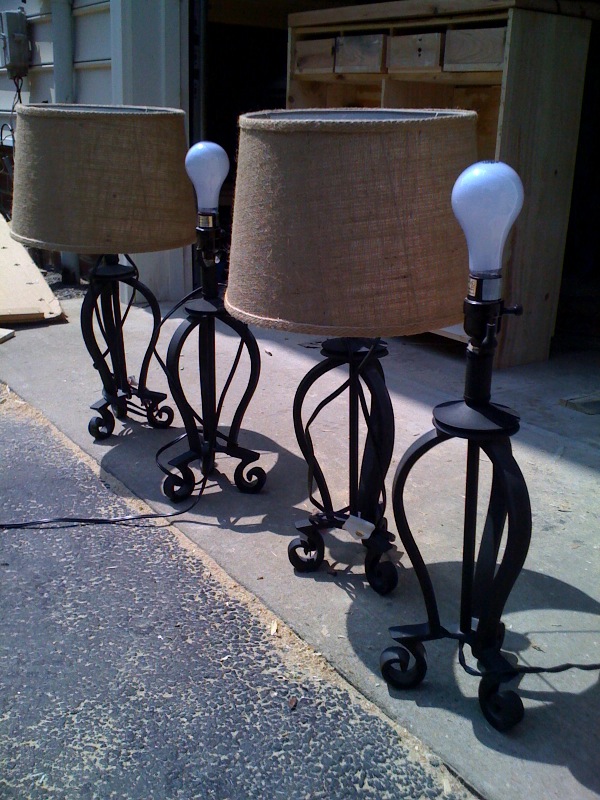 I was eager to collect on my good husband gold star and sent a picture of them to Ellie and here's her response:
"OMG ARE YOU KIDDING ME?????? THOSE ARE FREAKING AWESOME"
Yup……success.
We actually found two matching lamp shades but in a smaller size at Target and two of these are now sitting on the apothecary (seen below) and the other two are up in our guest room on our dresser.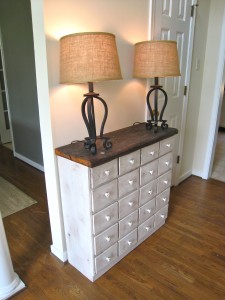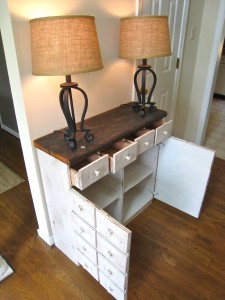 Not too bad for FREE.
What are some cool things that you have found on the roadside for FREE?
Comments
There are no comments on this entry.
Trackbacks
There are no trackbacks on this entry.